Refugee Resettlement
---
The Work of CIRI Set-up Teams Reflects Compassion and Respect
After an April 2022 apartment set-up in Stamford, CIRI board members received this thank you note from Bruce Winningham. Bruce was at the set-up since his church, First Presbyterian in Greenwich, is sponsoring the family that we settled.
Dear Stephen and Bayard,
I am writing and I hardly know where to begin to describe my respect for your unnamed yet supremely vital "housing move-in" enterprise.
I played a central role in a community co-sponsorship team associated with a refugee family overseen by IRIS in 2016.  The well intentioned volunteers began by outfitting the family's apartment with donated furniture and rugs, home furnishings, and beds.  I felt a need to ensure that this family whom I had not yet met would sleep, their first night in America, on mattresses that no other human had slept on.  So I went to Sleepy's and bought the beds myself.  To this day, six years later, the mom still occasionally professes to me how much it meant to her (after three years fleeing her home country) that she and her children slept on new mattresses.
Thus, when I saw those boxes of brand new bedframes, and then saw the brand new box springs come into the room, I felt deep within me an overwhelming sense of admiration for the whole essence of respect embodied in your remarkable organization.  That feeling of admiration actually began several hours earlier when the cleaning crew arrived.  Their work was not needed, but in getting to know them I was stunned to realize that they are prepared to enter severely unclean apartments so as to ensure that the first home in America on a family's first night, would be clean for those who had traveled so far, suffered so much.
I must also extend a compliment to those who hunted for and selected the particular furniture items and other home furnishings & wall decorations.  They were very aptly chosen for the family moving in.  And it was a joy to be able to witness the family having the opportunity to see your team's work and to personally thank them for their thoughtfulness and generosity.
If I keep tapping my computer keyboard, I will just continue writing sentences that emphasize my great appreciation for your team.  So I will close by expressing my thanks to everyone who plans, leads and works on your team.   Your group addresses a major "unfilled niche" in the vast spectrum of charitable community outreach.  I offer my gratitude.
Sincerely,
Bruce Winningham
To learn more about CIRI, click here to visit their website.
CIRI Furniture Donation Guidelines
---
The UMCWW CIRI work group is helping to clean, set-up and furnished apartments for refugees. If you are interested in donating, please read the guidelines below and contact Martha Deegan with questions.
We want to show our newly arriving Afghan refugees how kind and loving we can be. So, while we all have "made do" with pieces of furniture that have seen better days in our own pasts, we would like to show generosity to our new friends. Thank you for helping us create a warm and homey look.
Items Needed:
 Dressers
 Kitchen Tables and Chairs
 Light Coffee Tables
 Comfortable Chairs of all Kinds (Rockers/Gliders, Small Armchairs, etc.)
 Small Love Seats – NO Sofas
 End Tables
 Occasional Tables
 Bedside Tables
 Dressers
 Smaller Easy Chairs
 Ottomans
 Floor & Table Lamps – must be in good working condition with safe cords
 Small Carpets – clean and house-ready
 Bookcases & Shelves, Wall Shelves
 Framed Artwork – Prints or Maps. Due to cultural considerations, please do not include prints of people or animals. Maybe you have a print of a landscape from a past vacation?
 We are not accepting Beds. All apartments will be set up with new mattresses, box springs and metal frames.
 We are not accepting Cribs
 We are not accepting Sofas (Loveseats only)
 We are not accepting heavy Coffee Tables (Stone or Glass tops)
 We are not accepting loose Dining/Kitchen Chairs
Please understand that our guidelines are driven by the confined spaces and steep, narrow staircases our apartment setup teams must navigate. It is too difficult to get heavy and bulky items up those stairs.
Please send pictures and the dimensions of the items that you would like to donate to Martha Deegan, marthadeegan@rocketmail.com.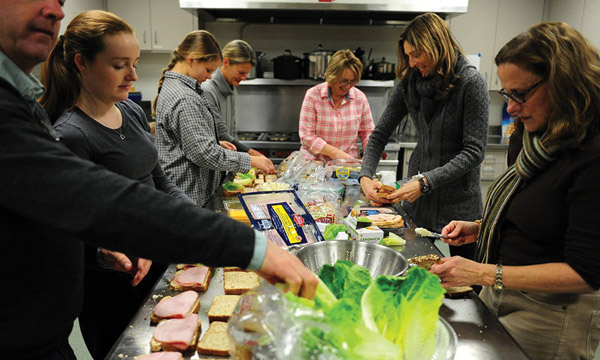 Gillespie Center Meals
---
Homes with Hope at the Gillespie Center is a non-denominational homeless shelter for men and a place where homeless men and women can have a warm meal in downtown Westport. Volunteers from our church provide meals the first Friday of every month.
This fall we're asking volunteers to use Sign-Up Genius to pick a date when they will prepare and drop off meals at Gillespie Center.  We will not be doing in-person food service at this time.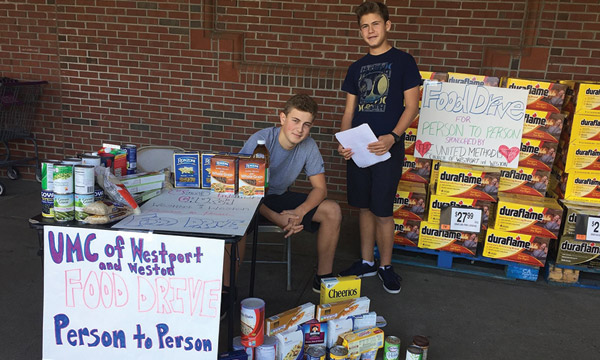 Person to Person
---
Our congregation has an ongoing food collection for the Person to Person (P2P) food pantry in Norwalk. In addition, each December we participate in the Christmas "Gift of Giving" program. Along with other interfaith church families, P2P presents Christmas gifts to hundreds of families. In addition to the food pantry, P2P distributes household items, provides camp opportunities and offers conversational English classes.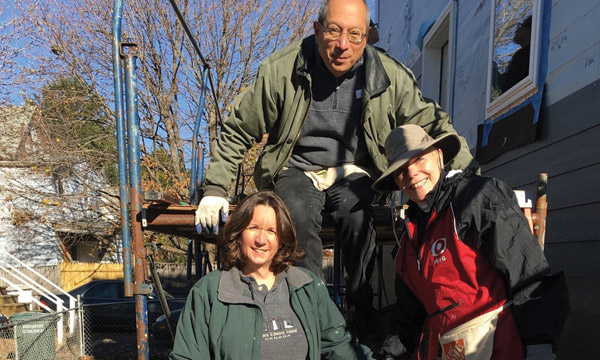 Habitat for Humanity
---
Habitat for Humanity is driven by the conviction that every person needs and deserves a decent, stable place to call home. Our church has been involved with Habitat for Humanity for decades. We have teams of volunteers who work on various Habitat building projects throughout the year.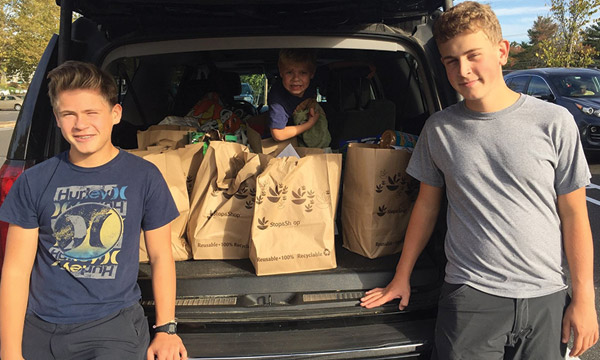 Bridgeport Rescue Mission
---
Bridgeport Rescue Mission has been serving the poor, hungry, homeless and addicted with the Love of God in Coastal Fairfield County since 1993, providing food, clothing, shelter and addiction recovery services at no cost to anybody in need. Our church has been in partnership with the organization for many years, helping them maintain and expand programs to meet the needs of men, women and children in the local community.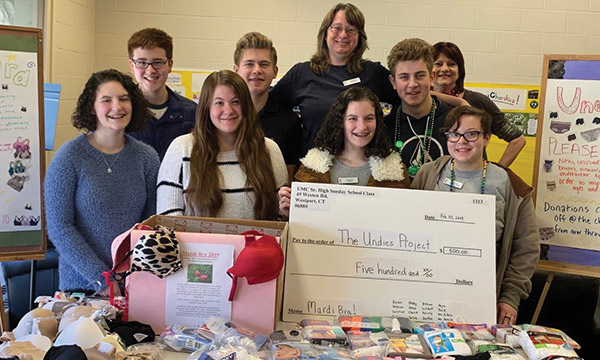 Undies Project
---
The mission of the Undies Project is to provide new underwear to men, women and children in need to help improve their lives—for no one should be deprived of the simple, daily necessity of clean underwear. UMCWW is now a drop-off spot for the Undies Project organization. A collection box can be found year round inside the main entrance for gently used bras and new underwear for men, women and children.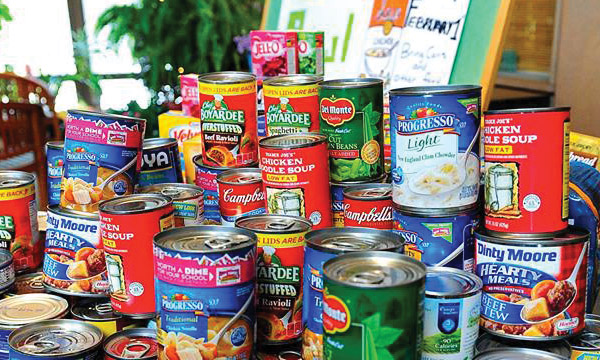 Special Projects
---
Outreach projects are a core value of our church. Throughout the year, as needs arise in the community, various opportunities are made available for our members to donate time, funds or both.